Fort Concho relies on support from generous donors to continue its ongoing mission. Contributions are not only a vital part of our preservation efforts, they also provide critical funding for the development and execution of the exhibits, programs, activities, and events.
There are many ways to support Fort Concho!
Donations
Donations made to the fort go into the site's general fund and are used in a variety of ways. To make a contribution to the site, please call us at 325-657-4444, or email us at admin@fortconcho.com
A donation box is also located in the Visitor Center at Barracks 1. All contributions make a difference.
Tribute Gifts
Tribute gifts are a meaningful way to commemorate a special occasion or pay tribute to a family member, friend, or loved one. These tax-deductible gifts not only provide an alternative way to celebrate someone special, they also help fund the fort's ongoing mission. Honor or Memorial gifts to Fort Concho may be designated for a specific project, exhibit, or program.
Gifts made to Fort Concho will be recognized in the fort's monthly newsletter and acknowledgements will be sent to the honoree or the honoree's family.
San Angelo Gives
San Angelo Gives is a powerful 24-hour, online giving event that reinforces the value of local philanthropic giving and community engagement. Hosted by the San Angelo Area Foundation, this event gives community members the opportunity to find and support an organization whose mission aligns with their passion. San Angelo Gives is one day to give as one.
Fort Concho has taken part in San Angelo Gives since 2015. The contributions made to Fort Concho during the fundraising event are allocated to specific projects, programs, or improvements at the site.
 San Angelo Gives 2020: May 5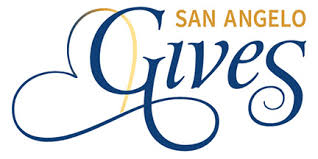 Special Projects
Barracks and Mess Halls 3 & 4 Project
Thanks to a generous anonymous donor, Fort Concho received $2,000,000 to reconstruct both Barracks and Mess Halls 3 & 4. These structures will be rebuilt on their original site and fill out the Barracks Row for the first time in more than 100 years!
Preliminary plans may be available in late 2017, and the project committee will be seeking additional funds for this wonderful facility that will house a special research collection and other fort library/archives materials.
Visitor Center Project
Fort Concho will be renovating its Visitor Center in Barracks 1 with big plans to expand into the adjacent Barracks 2 structure.Once preliminary plans are developed, the fort will have major and minor funding opportunities that will help us complete this exciting project. The fort already has $1,000,000 in public funding through the City Half-Sales Tax that was authorized by city voters seven years ago, but we will still need the support from other donors in order to bring this project to fruition.
If you are interested in supporting these projects, please contact the fort's site manager at (325) 481-2730 or  director@fortconcho.com