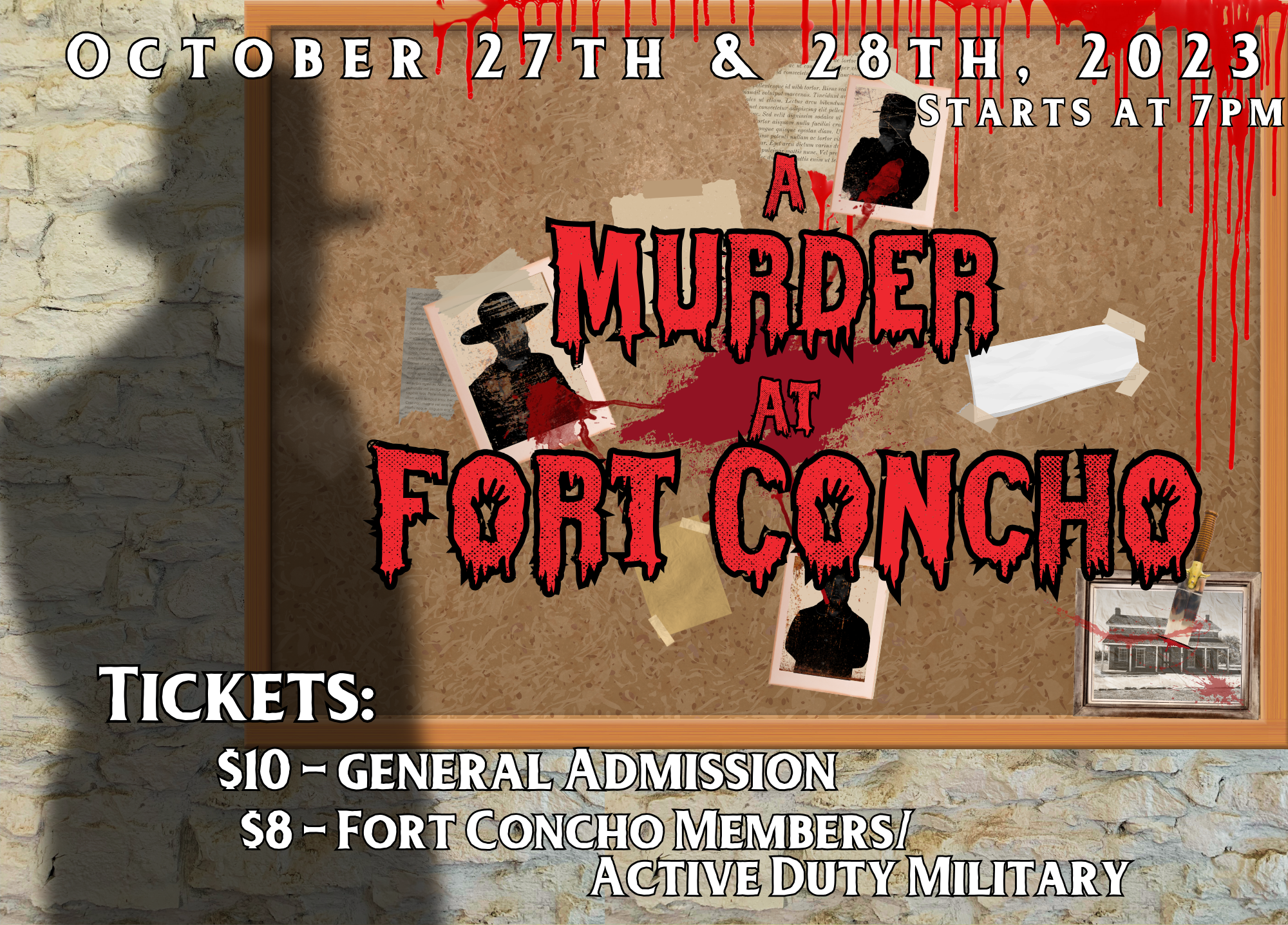 A Murder at Fort Concho
Who killed Captain C.A. Daver?
Modeled after the board game "Clue", A Murder at Fort Concho gives you the opportunity to play detective for a night. Listen to the suspects' alibis, search for clues, and help Detective Mister E. Salva solve the "whodunit". Come alone or come as a group!
A lot like last year, we are giving you 2 nights to play along! And both nights will have different results! Do you think you can solve it?
The murder starts at 7 p.m. Detectives will be briefed outside of Barracks 1. Each briefing will be approximately 10 minutes. There will be no time slots again this year, so we will be lining up and sending people into the Barracks 1 courtyard depending on the order of arrival. All detectives will have until 10:30 p.m. to solve the mystery.
Make sure to dress according to the weather of that evening and wear comfortable walking shoes! And have a flashlight ready. We will be selling Fort Concho flashlights at the BK1 gift shop, but you are welcome to bring your own!
Detectives can purchase their tickets ahead of time in the Visitor Center at Barracks 1, or by calling (325) 481-2646, starting Monday, October 16. Tickets are $10 for the general public and $8 for Military/Fort Concho Members. (Want to become a member? Ask me how!)  Tickets will also be sold at the door until 9 P.M.  NO ONLINE TICKET SALES! BEWARE OF SCAMMERS! You must have an actual ticket to participate and receive a clue card.
The event will begin in the Fort Concho Visitor Center/Barracks 1 courtyard. Parking will be available across Oakes Street.
"There is nothing more deceptive than an obvious fact…" – Sir Arthur Conan Doyle